At ICP, a hands-on venture capital investment company, each member actively devotes his/her commitment to portfolio companies.
1. Narrowing down focused sectors
By narrowing down our investment sectors, we build expertise and comprehension in those sectors.
2. Commitment to management
Each of ICP members usually serves on the boards of 2 or 3 portfolio companies per year to work on their management issues.
3. Incubation
We actively support portfolio companies to build business alliance or to raise finance for further growth of business.
4. Monitoring
Monitoring the progress of business objectives set at the time of investment, we help to refine business strategies and financial plans
5. Goal
Our goal is not limited only to IPO but also includes M&A。
Strategy
Investment policy
ICP is a venture capital firm focused on growing IT or service sectors. Our basic policy is not only to provide funding for seed or early stage start-up companies but to provide managerial know-how for business expansion and to work together with entrepreneurs to increase enterprise value.
Investment Criteria
At ICP, we emphasize the following four points when considering investments:
1.Management Team : Competent and trustworthy management team with considerable experience in their fields
2. Competitiveness :Existence of competitive advantage in technology and business model
3. Market growth : Addressable market with high growth potential
4. Fair value : Fair value reflected on market environment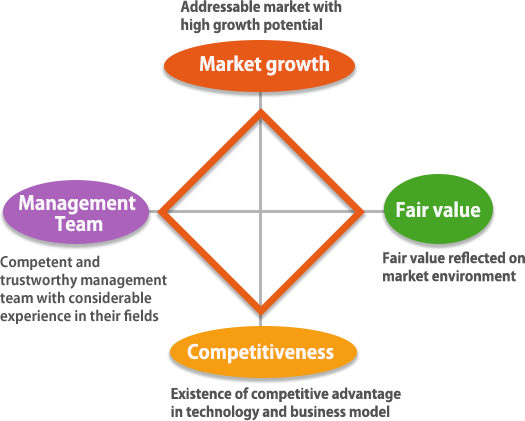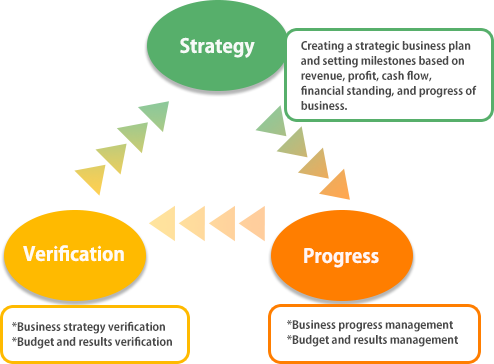 Monitoring after execution of investment
At ICP, we like to take board seats on companies we invest in to work closely. On our monthly and quarterly meetings of capitalist members, we share problem issues and successful cases from each member so that we can make the most of the team power, not relying on individual decisions.